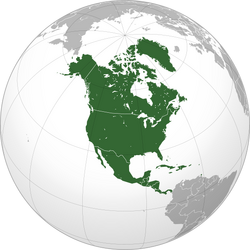 North America is a continent wholly within the Northern Hemisphere and almost wholly within the Western Hemisphere. It can also be considered a northern subcontinent of the Americas. It is bordered to the north by the Arctic Ocean, to the east by the Atlantic Ocean, to the west and south by the Pacific Ocean, and to the southeast by South America and the Caribbean Sea.
This category contains legends found in North America. This category also includes Central American countries.
Pages in category "North American Legends"
The following 200 pages are in this category, out of 201 total.
4

A

B

C

D

E

F

G

H

I

J

K

L

M

M cont.

N

O

P

R

S

T

V

W
Ad blocker interference detected!
Wikia is a free-to-use site that makes money from advertising. We have a modified experience for viewers using ad blockers

Wikia is not accessible if you've made further modifications. Remove the custom ad blocker rule(s) and the page will load as expected.