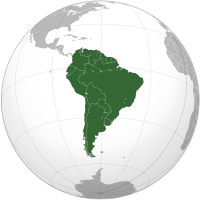 South America is a continent located in the Western Hemisphere, mostly in the Southern Hemisphere, with a relatively small portion in the Northern Hemisphere. It can also be considered as a subcontinent of the Americas.
This category contains legends found in South America.
Pages in category "South American Legends"
The following 22 pages are in this category, out of 22 total.
A

B

C

E

G

H

K

M

O

P

P cont.

S

T

V